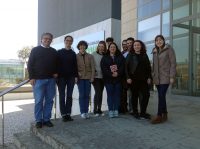 Prof. dr. sc. Zlatko Šatović visited dr. sc. Carlotu Vaz Patto, Head of PlantX at the Instituto de Tecnologia Química e Biológica António Xavier (ITQB), Universidade NOVA de Lisboa, Lisbon, Portugal.
Professor Šatović and Dr Vaz Patto signed the Letter of Agreement with the intention of scientific collaboration in the framework of the project KK.01.1.1.01.0005 Biodiversity and Molecular Plant Breeding led by CoE CroP-BioDiv that will include the exchange of plant material, phenotyping and genotyping of common bean accessions as well as statistical analysis of molecular and agronomic data as anticipated by the project proposal within the Project Element 7. Common bean led by lead by Dr Klaudija Carović-Stanko as well as Project Element PM Project Management, Activity 2. Data Storage and Analysis. During his stay at ITQB Professor Zlatko Šatović gave lectures on Modern Strategies in Plant Breeding for the students of the Plants for Life.
Time: 04. i 05. travnja 2018.
Location: Instituto de Tecnologia Química e Biológica António Xavier (ITQB), Universidade NOVA de Lisboa, Lisbon, Portugal